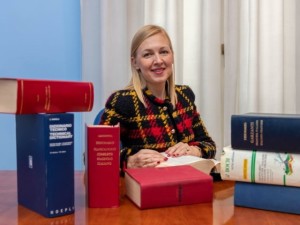 Are you looking for a high-level Russian – Italian or English – Italian interpreter? Anna Rechnova, the owner of Milan Translations agency, is one of the best interpreters that can be found on the market in Italy. Mrs. Rechnova has been practicing the profession since 2001. After teaching at the University of St. Petersburg at the faculty of Italian Studies, she opened her own studio in Milan. Today she is the head of an important staff of professional Italian – Russian and English – Russian translators. Author of a dictionary of the language spoken to learn Italian Anna Rechnova is the author of a Russian dictionary for the fast learning of the Italian language which has already reached its third reprint in 2007 for the Paritet publishing house. It is possible to buy the dictionary on http://www.ozon.ru
Other references
Anna Rechnova was the official interpreter for Saipem spa (Eni Group) coordinating a staff of 15 translators as Specialist Project Leader as part of the project for the construction of a hydrocracking plant in the Republic of Tatarstan. Other collaborations include that with Giuseppe Tornatore, for the drafting of a film on the Second World War and many other personalities.
Translation services
Mrs. Anna Rechnova can provide translation services from Italian to Russian and from English to Russian for these sectors: Technical (manuals, instruction manuals, datasheets) with layout and maintenance of the original style Legal (contracts, powers of attorney, preliminary sales contracts) Certificates at the Court of Milan for the legalization (birth certificates, residence certificates, diplomas, university degree, etc.) Commercial/business (brochures, websites, cover letters) Literary/editorial (books) Anna Rechnova and her staff can even handle urgent and large-volume translations.
Italian – Russian and English – Russian interpreting
Mrs. Rechnova also offers interpreting services from Italian to Russian and from English to Russian, either liaison, consecutive, whispering and simultaneous interpreting in the booth.
Sworn translations (asseveration) at the Court with legal value
We carry out sworn translations with legal value in the Italian – Russian combinations, in addition to the affixing of the Hague Apostille for the validity of the document abroad (legalization). This type of translations is carried out by a Court-appointed expert witness (CTU, as for the acronym in Italian), and its value is also recognized at the Italian embassies and consulates and abroad. For more information, please consult the legalization and asseveration service
We carry out sworn translations from Italian to Russian of medical certificates to be exhibited in Russia or in Italy depending on the type of document.
Which documents are translated and sworn from Italian to Russian and vice versa? certificates, divorce certificates, marriage certificates, death certificates, birth certificates, payment certificates, civil status certificates, family status certificates, vaccination certificates, medical certificates, criminal certificates, school certificates, curriculum vitae, diplomas, identity documents, judicial documents (judgements, resolutions, verdicts), notarial documents, private documents (work certificates, contracts), public documents (residence certificates, statements), passports, driving licenses, separations, testaments, qualifications
Any type of interpreting in Milan and in the cities of Florence, Rome, Bologna, Padua, Turin
Discover more in detail about our Russian translation services of technical manuals
To request a quote, you can:
send an e-mail to info@milanotraduzioni.com / info@milantranslations.com